Keeping Central Texans up-to-date on all the soccer news that's fit to link to.
Reading
Nick Barbaro at the Chronicle has a couple of 2019 top-10 lists for Austin soccer:
For the third year in a row, the top two local stories are Austin's two pro soccer teams, but boy, have things changed. Austin FC, set to become the city's first major league sports team, went from nonexistence to breaking ground on their sold-out stadium, while Austin Bold FC fulfilled their promise to bring pro soccer back to Austin, in the town's first soccer-­specific stadium, no less.
USL's Fan's Choice awards recognized Austin Bold FC with Best Celebration of the season.
It's official: along with Austin FC, Charlotte, NC will be joining MLS in 2021:
Tepper, a charismatic businessman who founded the global hedge fund Appaloosa Management, worked tirelessly over the last year to bring MLS to Charlotte. In 2018 he became the owner of the Carolina Panthers, after previously owning a 5 percent stake in the Pittsburgh Steelers.
…The Carolinas have also been a popular location for youth soccer tournaments and was chosen as the site of the 2019 adidas MLS College Showcase. Two-time defending NWSL champions North Carolina Courage have had great success in the market as well.
Also official: Austin FC has, at long last, named Double Dave's as their Official Pizza Partner:
Slingin' dough for friends and family in Texas since 1984.

Please welcome DoubleDave's Pizzaworks into the family as our Official Pizza Partner ? #AustinFC | @DoubleDaves pic.twitter.com/qWbpTflN5k

— Austin FC (@AustinFC) December 18, 2019
The Austin Soccer Foundation continues its good work with a donation to AISD's soccer programs:
The #AustinSoccer Foundation was pleased to present @AISDAthletics with a donation for their soccer programs prior to tonight's middle school matches. Our mission is to continue to make a difference in our community through #thebeautifulgame ~ #ilivehereigivehere pic.twitter.com/3QlqeSkI57

— Austin Soccer FNDN (@ATXSoccerFNDN) December 19, 2019
On the Field
All times Central Time
Around the World
Liverpool beat Flamengo to win the Club World Cup in Qatar. If you're not a Liverpool or Flamengo fan – heck, even if you are – you can be forgiven for not knowing this was going on. The English side's semifinal was against CONCACAF's own Monterrey, and that game was only broadcast in the US on FS2. And the final itself was only broadcast on Fox Deportes! Which comes first, decent TV coverage of a tournament, or anyone giving a damn about that tournament?
The UEFA Champions League draw was also held this past week: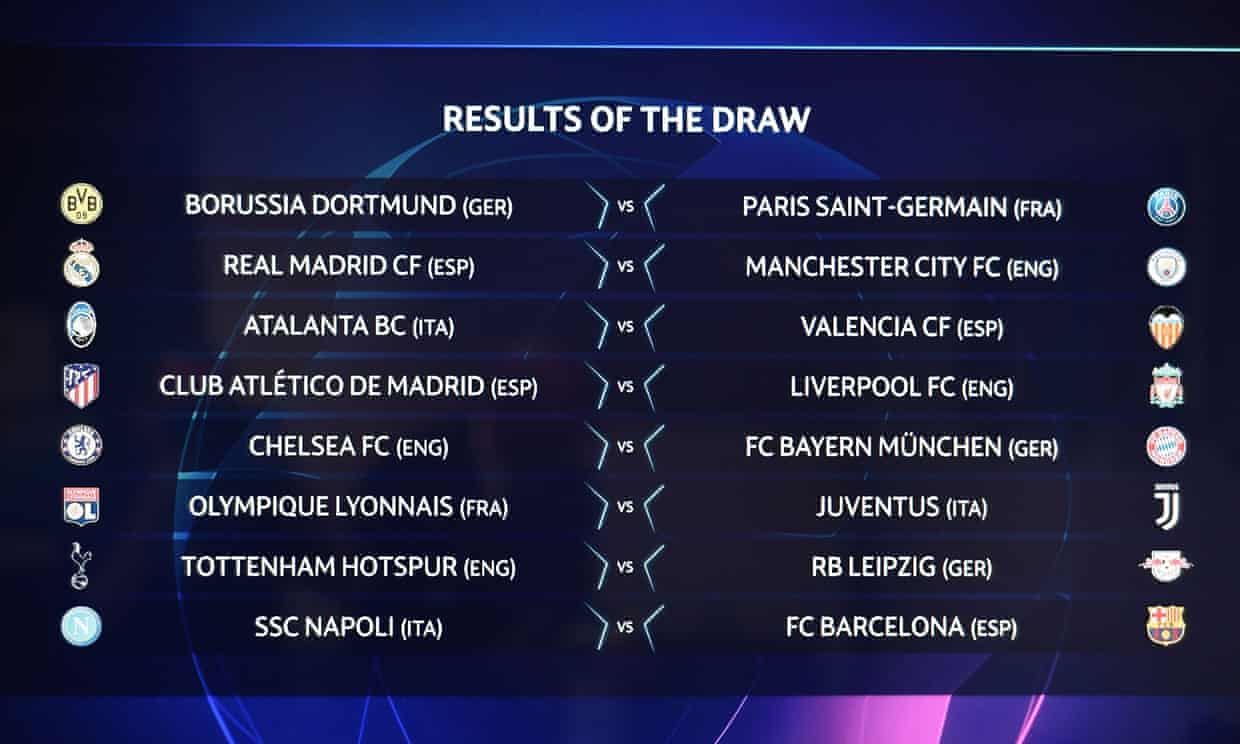 Shout-out to:
The EPL tradition of playing a packed schedule right through the holidays. I don't know what "Boxing Day" originally meant, but nowadays it means a glorious post-Christmas day like the following (all games on NBCSN). God Save the Queen.
6:30 – Tottenham Hotspur vs Brighton & Hove Albion
9:00 – Chelsea vs Southampton
11:30 – Manchester United vs Newcastle United
2:00 – Leicester City vs Liverpool
---
Feedback? – Have opinions about our opinions? Have topics or activities that we should include? Just feeling lonely? Contact us with this form or on Twitter!
Subscribe! – Get Stoppage Time delivered reliably every week(-ish) right to your inbox! Spam-free & easily unsubscribed from, sign up at violetcrown.soccer/stoppage-time.